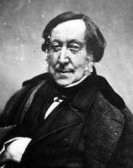 Gioacchino Rossini
Duetto Buffo di Due Gatti (Humorous Duet for Two Cats) for two high voices & Piano. Also known as the "Cat Duet" and as "The Meow Song," this work is one of the whimsical chamber works written late in Rossini's life. It is among the many lighthearted compositions Rossini himself described as "sins of old age."

Pages: 4 pp.; 8½" x 11"
Level: Moderate
Performance Time: App. 3 min.



Click on score for larger view