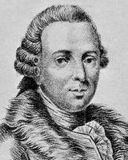 Pietro Nardini
Violin Concerto in A Major. Best known for his concerto in E Minor, Nardini's A Major is a much neglected work that is, in many ways, superior to the E Minor. This edition is the version realized and edited by Tivadar Nachèz in 1914.

Pages: 21 pp. (piano), 9 pp. (violin); 8½" x 11"
Level: Intermediate to Advanced
Performance Time: App. 9 min.



Click on score for larger view