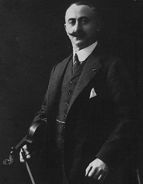 Tivadar Nachèz
Danses tziganes (Gypsy Dances), op. 14. Composed while Nachèz was a young student of Léonard in Paris, these showpieces were immensely popular during the composer's lifetime but have been sadly neglected by later generations. This new edition of the dances has been edited by John Craton.

Pages: 17 pp. (piano), 9 pp. (violin); 8½" x 11"
Level: Advanced
Performance Time: App. 10 min.



Click on score for larger view