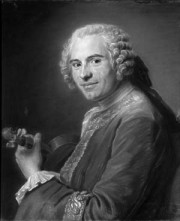 Jean-Joseph Mondonville
Violin Sonatas, op. 3 (Pieces de clavecin en Sonates avec accompagnement de violon). The sonatas that inspired Rameau to compose his Pièces de Clavecin en Concerts in 1741, Mondonville's opus 3 stands as a monument to the French baroque. Mondonville, by all accounts a happy man, conveyed his joie de vivre in these sonatas, which require a high degree of virtuosity to interpret the typically Parisian elegance found therein.

Pages: Vol. I (Sonatas 1-3), 39 pp., clavecin, 19 pp., violin; Vol. 2 (Sonatas 4-6), 45 pp., clavecin, 19 pp., violin; 8½" x 11"
Level: Moderately advanced to advanced
Performance Time: Individual sonatas, 8 to 12½ mins; total, 60 mins.



Audio Samples
Click to hear excerpts from the sonatas performed by Les Musiciens du Louvre on an Archiv Produktion CD.

Click on score to see larger image