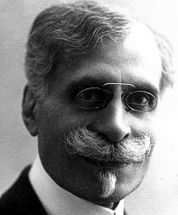 Maurice Emmanuel
Sonata, op. 2, for violoncello & piano. Composed while Emmanuel was still a student of Léo Delibes at the Paris Conservatoire, the sonata utilizes modal veins rather than traditional scale patterns. Well ahead of its time, the work infuriated Delibes to the point that a permanent rift developed between teacher and student, and Emmanuel continued his studies under Ernest Guiraud instead. A demanding work, it is nevertheless a worthy addition to any cellist's contemporary repertoire.

Pages: 27 pp. (piano pt.), 6 pp. (cello pt.), 8½" x 11"
Level: Advanced
Performance Time: App. 15 min.



MIDIs of this work can be heard here


Click on score to see larger image