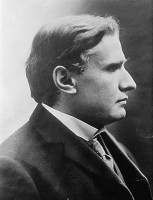 Walter Damrosch
Sonata for Piano & Violin ("At Fox Meadow"). Composed in 1899, the sonata — the composer's only work for violin and piano — is representative of the music from America's Gilded Age. Written in a pastoral style very reminiscent of Brahms, the work prefigures the chromaticism of later European composers of the early twentieth century.

Pages: 43 pp. (piano pt.), 13 pp. (violin pt.), 8½" x 11"
Level: Advanced
Performance Time: App. 27 min.




Below you can hear 60-second excerpts from the sonata
performed by the Elliott Markow, Violin, and Mary
Jane Rupert, piano.
Allegro moderato
Andante moderato
Allegretto grazioso e amabile


Click on score for larger image