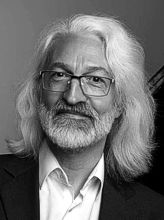 Michel Bosc
A l'ombre d'oliviers (In the Shade of Olive Trees). A sleepy Sicilian ambiance for two mandolins and guitar, the work is described in the composer's own words as reflecing "Sicily, a siesta under olive trees on a sweet afternoon with plenty of Mediterranean perfumes — sleep, dreams, sun rays on the leaves." A l'ombre d'oliviers was premiered in 2005 by the Ensemble Gabriele Leone in Paris.

Pages: 4 pp., score; 1-2 pp., each part; 8½" x 11"
Level: Easy
Performance Time: App. 5 min.




Below you can hear a 60-second excerpt
performed by the Ensemble Gabriele Leone.

Click on score for larger image